On 17th January 2020, Xi Jinping made his maiden visit to Myanmar signing 33 new pacts based on the Chinese vision of "21st-century silk road". Myanmar is one of the nations very much interested in Chinese vision and China-Myanmar Economic Corridor (CMEC) which is a subset project of Belt and Road Initiative (BRI) is at its pace. One of the important talks during the visit included a new city project in Yangoon, which China is interested to invest in. This visit is very much alarming for India, which is emerging as a strong rival in the Indo-Pacific region to China. Rajiv Bhatia, former ambassador of India to Myanmar calls this visit "to be taken very seriously by the (Indian) government".
In recent times, China is forging new relations. Especially, prior to 2017, Chinese-Myanmar relations were not well as people recognized that China is increasing and trying to dominate over a country like Myanmar. A $3.6 billion megaproject, Beijing backed dam is still under hold due to controversy in 2011 where the dam was suspended over environmental concerns. However, due to 2 major reasons, relations between both nations are taking a new turn. Primarily, post-2014, China is flexing its muscles by dominating nations. A perfect example is when China deceived Sri-Lanka by pursuing Sri-Lanka to take a loan from China in order to build Hambantota port. Sri-Lanka hoped that the port will help its economy grow whereas reality contradicted dreams. Port did not turn out the way it was hoped. Instead of repaying the loan to China, Beijing offered to give port to China on lease. Further, different moves from sanctioning huge line of credits to developing infrastructure in countries like Nepal, Pakistan, Bangladesh and more, is what China is doing to promote its BRI project and increasing its soft power.
In November 2019, the Republic of Gambia, an African country filled a case against Myanmar over the Rohingya issue at ICJ. Myanmar is under constant pressure from western and Islamic countries over the Rohingya crisis. In such conditions, China offered his forward hand to Myanmar. China is also facing criticism over the condition of Uighur Muslims in Xinjiang province. It is a very common tactic of China to draw those countries which are facing International criticism closer. For example, Iran has faced sanctions by the USA which prohibits any nation from purchasing crude Oil from Iran. Where all the nations (Including India, Iran's trusted ally) starting abiding the say from the USA, China continued its purchases from Iran. Not only this but in the next few decades, China will invest $400 billion dollars in Iran in various sectors. In such a situation when Iran's economy is in turmoil, Chinese help will surely change regional geopolitics.
The second reason for increasing Chinese influence in Myanmar is BRI(Belt and Road initiative) itself. Chinese vision is to re-establish a lost old silk road which used to connect China to the Roman Empire. If this project brings even partial success, the Chinese economy and trade will boost like never before with the 'absolute free trade' policy.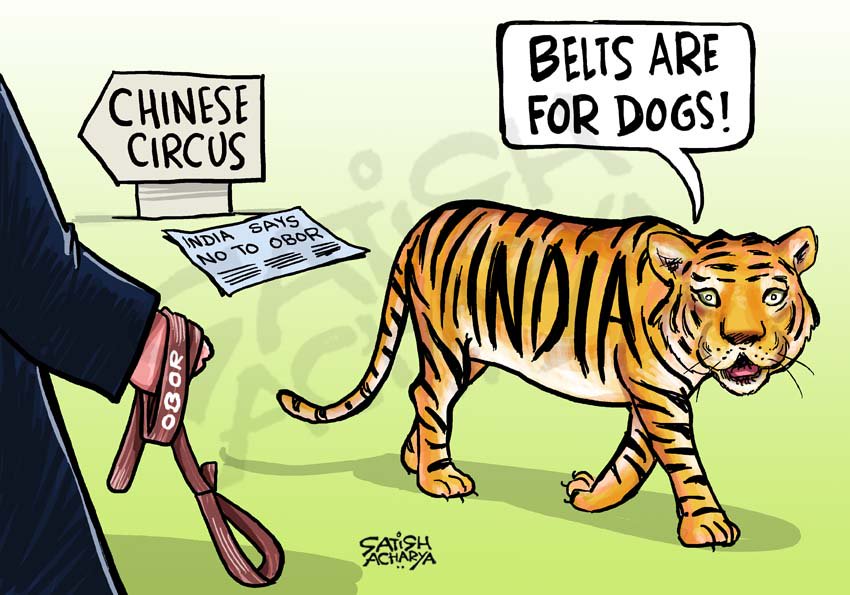 In Myanmar, in nutshell, China backs the United DWA state army(UDSA) whereas India supports democratic camp. The democratic camp came forward in 1988 when Aung San Suu Kyi led the uprising for democracy. After a long tussle, democracy was established and Aung San Suu Kyi's NLD party won the elections but Myanmar's military-led SLOC party with the support of China put Aung San Suu Kyi under house arrest. However, post-1992 things eased but today also, despite Aung San Suu Kyi is the country's leader, the military does hold some power.
In order to contain China's increasing influence, India, Japan, Australia, and the USA formed a group by name Quad. Moreover, ASEAN's tussle with China continues due to the South China Sea dispute. Despite Myanmar being an ASEAN member, countries like it and Cambodia remain aligned towards China. India, on the other hand, is pushing forward in the Indian sub-continent not to let its allies slip away. In the case of Myanmar only, in 2017 Bangladesh purchases two 035G type submarines worth $203 million from China, India correctly felt the situation where Myanmar was rushed and in response to Bangladesh's purchase, wanted to keep itself afloat. This was when Myanmar decides to purchase Indian made Sindhuvir submarine. In 2019, India got the charge of Sittwe Port in Myanmar which can be very beneficial to bilateral relations and Indo-Myanmar Kaladan Multi-Modal Transit Transport Project (Map below). A common enemy of both countries is the Kachin Independence Army (KIA) which is suspected to be funded by China. KIA is a threat to Myanmar and also found supporting the Arakan army which is an insurgent group found to threaten the Kaladan Multi-Modal Transit Transport Project in Myanmar. Kaladan is an essential river for connectivity of Sittwe port to Myanmar under. In order to safeguard the project, the military of Myanmar and India commenced operation sunrise aimed to push the Arakan army back.
China's ambitious BRI project is full of opportunities but adversaries do fear it. For a country like India, many experts believe that India should set the past aside and think future. However, with the fact given both the countries are proud nations with nationalist governments in their respective countries currently, border disputes (the primary reason for tensions between both the nations) are hard to be negotiated.
"We are two great countries and it is in our common interest to have good relationships." -S. Jaishankar(India's external affairs minister) on India and China